We will be closed on Monday, October 9 in observance of Columbus Day. Regular business hours will resume on Tuesday, October 10.
Military Trail Estates combines the convenience of town services with the tranquility of country living, and is only minutes from Decorah and Calmar, IA. Ossian's rich heritage includes an early trail to historic Fort Atkinson and later the railroad. Military Trail Estates is the perfect place for your family to call home! Please contact us to inquire about lot sales or to learn more!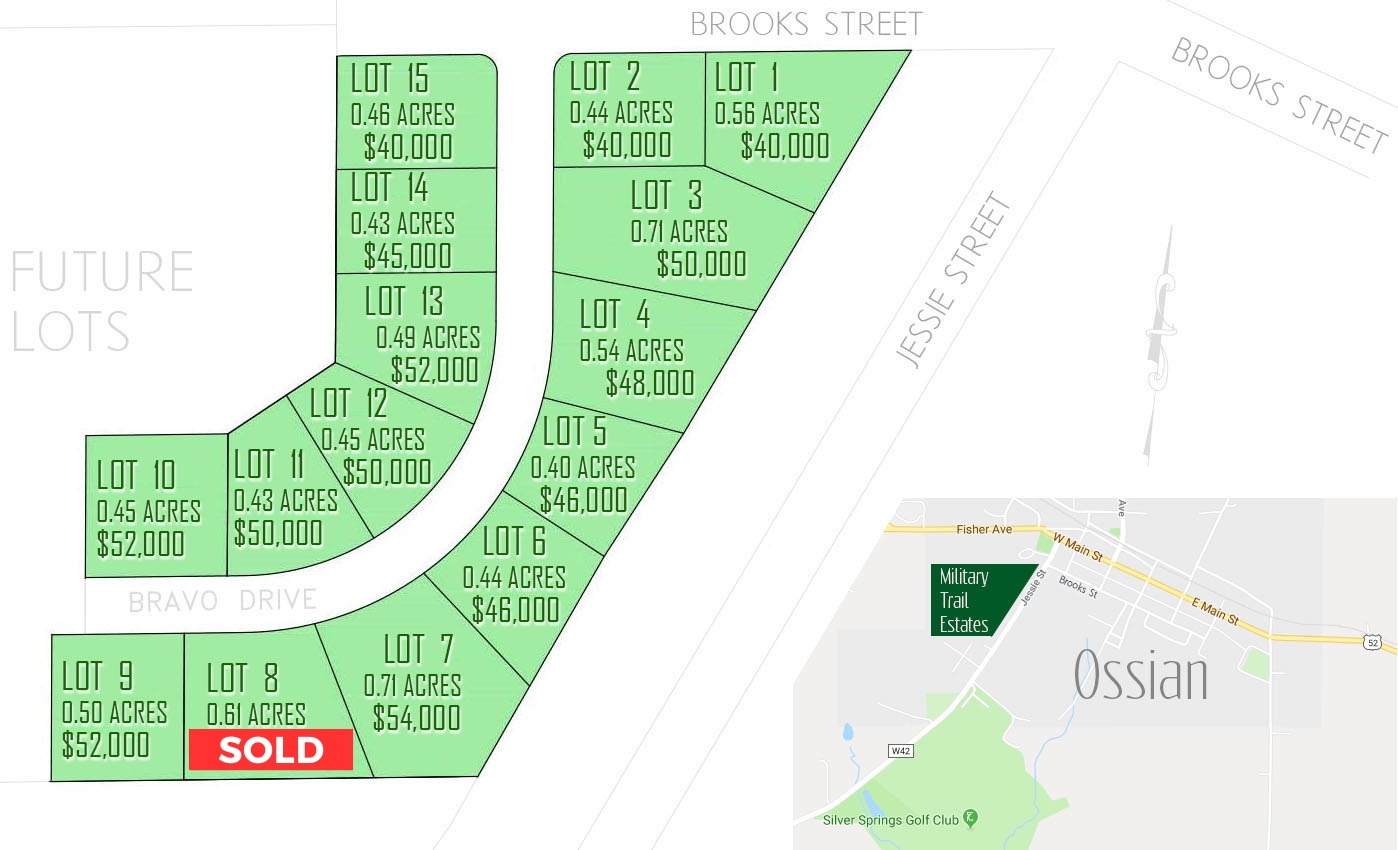 City of Ossian Incentives
10 Year City Tax Abatement Program available
$300,000 home = estimated $24,700 of reduced property taxes from tax abatement
City of Ossian Incentives as of 5/22/2018. City of Ossian reserves the right to change at any time. Contact the City of Ossian directly for eligibility and requirements.
Financing Incentives
Up to 40 Year Loan amortization offered by Luana Savings Bank
100% financing available to qualified applicants for building and long term financing
Additional special financing for 1st five years to build equity in home for qualified applicants
For more details call Joe Kriener at 563.532.7022 (NMLS#504864)
More Information
Approximate 34 Lot Subdivision – Town of Ossian
15 Lots AVAILABLE NOW!
Single Family Building Lots
Beautiful Silver Springs Golf & Country Club only 1/4 mile away!
City Park and Carey's Park Nearby
Short drive to Decorah, Calmar, and the Mississippi River
Luana Savings Bank is not directly affiliated with Military Trail Estates. This information is voluntarily provided to support and promote the housing needs vital to the rural communities we operate within. Financing incentives may be available for these areas. Information may change or be withdrawn without notice. Contact the individuals listed for more information.