2019 Top Workplaces Award by Des Moines Register
Luana Savings Bank has been awarded a Top Workplaces 2019 honor by The Des Moines Register. The list is based solely on employee feedback gathered through a third-party survey administered by research partner Energage, LLC, a leading provider of technology-based employee engagement tools. The anonymous survey measures several aspects of workplace culture, including alignment, execution, and connection, just to name a few.
"Top Workplaces is more than just recognition," said Doug Claffey, CEO of Energage. "Our research shows organizations that earn the award attract better talent, experience lower turnover, and are better equipped to deliver bottom-line results. Their leaders prioritize and carefully craft a healthy workplace culture that supports employee engagement."
Both Luana Savings Bank employees and management are excited for this honor. "As we continue to grow and add more employees to our team, this validates the values and culture of our organization," said David Schultz, Bank President. "Honors such as this are motivating to keep our organization moving towards more success, and that all begins at the core – our employees."
"Becoming a Top Workplace isn't something organizations can buy," Claffey said. "It's an achievement organizations have worked for and a distinction that gives them a competitive advantage. It's a big deal."
To learn more, visit www.topworkplaces.com and www.workplacedynamics.com.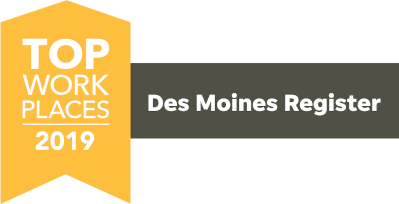 Agricultural Bank and Loan Officer of the Year
The Iowa Finance Authority today announced that Luana Savings Bank has been named Agricultural Bank of the Year and Steven Ruzicka of Luana Savings Bank has been named Agricultural Loan Officer of the Year. The awards recognize the bank and loan officer with the highest amount loaned to beginning farmers through the Beginning Farmer Loan Program in 2018.
"I congratulate Luana Savings Bank and Steven Ruzicka for this well-deserved recognition honoring their commitment to assisting beginning farmers," said Iowa Finance Authority Executive Director Debi Durham. "Last year alone, we assisted nearly 100 farmers in purchasing a total of 5,600 acres as well as machinery, equipment and livestock, an accomplishment that would not be possible without outstanding partners like the team at Luana Savings Bank."
"The Iowa Finance Authority's Beginning Farmer programs are vital to assisting farmers at the onset of their careers, so they can continue our state's rich agricultural history," said Steven Ruzicka of Luana Savings Bank. "We're honored to receive this recognition and look forward to helping even more farmers in the years to come."
The Beginning Farmer Loan Program provides low-interest loans to assist new farmers in acquiring agricultural property. Beginning Farmer Loans are financed by participating lenders or contract sellers with federal tax-exempt bonds issued by the Iowa Finance Authority. The interest received on contract sales or direct loans by individuals is also exempt from state income taxes.
More information about beginning farmer programs is available at IowaFinanceAuthority.gov/IADD.
The Iowa Legislature created the Iowa Finance Authority in 1975 to undertake programs to assist in the attainment of housing for low- and moderate-income Iowans. Since then, the Iowa Finance Authority's role has grown to include affordable housing, water quality and agricultural development programs.