Luana Savings Bank Ranks 7th and 11th in Iowa based on 3rd Quarter Performance
Luana Savings Bank is proud to announce we have ranked 7th in Earnings among Iowa Community Banks, based on Q3 performance. Luana Savings Bank has also ranked as the 11th Largest Community Bank in Iowa based on 3rd quarter total assets. Figures were taken from the FDIC 3rd Quarter Call Report (9-30-21). This again solidifies Luana Savings Bank as a Top 10 Banking Institution in Iowa where Luana Savings Bank shows immense strength by all meaningful banking measures. We would like to sincerely thank our loyal customers for their continued business and support, as well as our exemplary team who contribute to the success at Luana Savings Bank.
2021 Metro's Best Bank Awarded to Luana Savings Bank
Luana Savings Bank has once again been awarded the honor of Metro's Best Bank in 2021, having also been awarded the title in 2020. The Des Moines Register's Metro's Best is the annual reader-voted competition for local businesses within the Des Moines Metro area and surrounding communities where the Des Moines Register and Des Moines Register's Community Publications are distributed.
Nomination and voting rounds took place in July and August 2021. Only 5 nominees were named to compete in the final voting round and Luana Savings Bank again beat out all other major financial institutions within the Metro including Bank of the West, Bankers Trust, Community State Bank, and Wells Fargo Bank. The special announcement was made available by the Des Moines Register on October 24th in online, print, and e-editions.
Luana Savings Bank previously held the title of West Des Moines' Best Bank or Credit Union for two years running when localized competitions were held in communities surrounding the Metro. Since 2020, the Des Moines Register has streamlined the process into a single prestigious competition encompassing the entire Metro and surrounding communities.
"We are extremely honored to be named Metro's Best Bank again this year. We work hard every day to provide the best products and services we can, to help make Luana Savings Bank a great place to bank and work. This award is a true acknowledgment of that because it's reader- and consumer-voted, from the people and communities we serve. It's why our team loves coming to work every single day and why we are unwavering in our commitment to our customers," said Matt Janssen, Market President and Commercial Loan Officer at Luana Savings Bank's Clive office.
Luana Savings Bank was established in 1908 and is now the 10th largest community bank in the State with 6 offices across Northeast and Central Iowa – Luana, Ossian, New Hampton, Polk City, Clive, and Norwalk.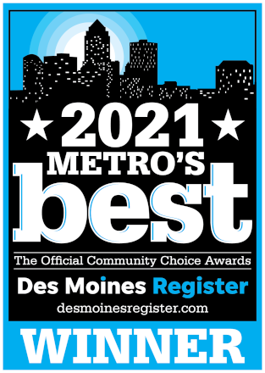 2021 Top Workplaces Award by Des Moines Register
Luana, Iowa September 12, 2021 - Luana Savings Bank has been awarded a Top Workplaces 2021 honor by The Iowa Top Workplaces. The list is based solely on employee feedback gathered through a third-party survey administered by employee engagement technology partner Energage, LLC. The anonymous survey uniquely measures 15 culture drivers that are critical to the success of any organization: including alignment, execution, and connection, just to name a few.
"During this very challenging time, Top Workplaces has proven to be a beacon of light for organizations, as well as a sign of resiliency and strong business performance," said Eric Rubino, Energage CEO. "When you give your employees a voice, you come together to navigate challenges and shape your path forward. Top Workplaces draw on real-time insights into what works best for their organization, so they can make informed decisions that have a positive impact on their people and their business."
Luana Savings Bank's Senior Management commented, "We're honored to again be named a Top Workplace for our culture that values its people and amplifies talents. This award means the world because it's solely based on the feedback of our great people."
Luana Savings Bank is one of the oldest & largest community banks in Iowa, providing exceptional personal and business banking products and service. Luana specializes in all types of lending, offering the best loan products around with super competitive rates. Luana has been recognized as one of the most efficient banks in the entire country, meaning quick and local decision making. With Luana you get the best rates and products paired with community bank style service, personalized to your needs.
To learn more, visit topworkplaces.com and www.energage.com.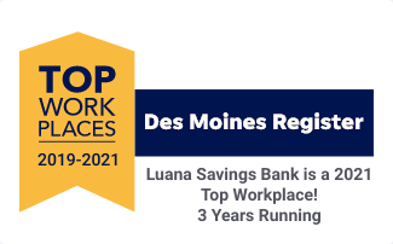 Luana Savings Bank Exceeds 2 Billion Dollars in Assets; A Top-10 Financial Institution in Iowa
We're proud to announce Luana Savings Bank has now surpassed 2 Billion in Assets which ranks Luana Savings Bank as a Top 10 Banking Institution in Iowa. By all meaningful banking measures, Luana Savings Bank is financially stronger than 99% of all banking institutions in Iowa.
We would like to extend a special Thank-You to all our loyal customers and staff who contribute to the success at Luana Savings Bank.
Luana Savings Bank makes a solemn promise to our customers that we will continue to offer the most competitive products in the banking industry and will continue to offer the unmatched customer service for which Luana Savings Bank has been recognized for since 1908.