Zhongdong (Ronnie) Chen, Assistant Professor of Finance at the University of Northern Iowa, recently joined the Luana Savings Bank Board of Directors.

Chen leads an impressive academic and business career, having earned a Ph.D. (Finance), University of Tennessee - Knoxville, M.S. (Finance), Sichuan University; and B.A. (International Economy & Trade), Sichuan University. Prior to joining the UNI faculty in 2017, Chen was an assistant professor of finance at Carson-Newman University and finance instructor and business coach at the University of Tennessee, Knoxville. He is also a certified Master Business Coach for Marketplace Live Business Simulations, which are widely used in undergraduate and MBA capstone courses. Chen focuses research efforts in areas of banking, corporate finance, and empirical assets pricing.

Today, as an Assistant Professor of Finance at the University of Northern Iowa, Chen has teaching interests in corporate finance and intermediate financial management. Chen believes knowing students on a personal level makes his job more fun and meaningful. He likes working with students outside of class — student research projects, finance clubs, and conversations about investments and business opportunities. Chen also owns and manages a number of local franchise stores in the Waterloo/Waverly area with around 50 employees. Chen has enjoyed making Northeast Iowa "home" and being actively engaged with the local economy, businesses, community members, and students.

"We're excited to welcome Ronnie to our board. Ronnie offers a unique perspective with a wealth of research and academic-based experiences, largely focused in banking. This, paired with his real-world, local business ownership knowledge will provide a great representation of our Northeast Iowa market on our board," said Luana Savings Bank's President, David Schultz.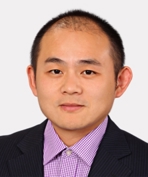 Ronnie Chen
Bank Director
Business Owner/Assistant Professor of Finance (University of Northern Iowa)
Cedar Falls, IA