Luana Savings Bank may ask customers or applicants to provide us with information such as account statements, income or tax history, proof of employment, insurance, etc. Here are some tips to ensure we receive documents timely and are able to view them:
If information is from a website, do NOT 'Save' the web page. See Saving Web Pages
Physical paper items can be photographed
Use Luana Savings Bank's Secure File Transfer system to easily and securely send files to us from both computers and mobile devices
Acceptable universal file types include PDF, XPS, JPEG, PNG, TIFF. File types not listed will not be accepted as they do not adequately preserve document content or require additional proprietary software to open/view
After you securely upload a file to Luana Savings Bank, consider deleting that file so that other users of the device or malware doesn't have access to additional sensitive, private information
Saving Web Pages
When a web page is simply "saved", web page code is preserved but often times may be incomplete. Furthermore, code is interpreted differently by various Internet browsers/computers when re-opened and may look different with information missing. Therefore, a universal document format like PDF or XPS should be used to save a digital equivalent of what the web page would have looked like had it actually been printed. This ensures no matter when or how the file is opened again, it remains visually consistent.
Google Chrome
Print web page using Google Chrome.
Change Printer
Select "Save as PDF"
Click 'Save', then upload the resulting file to us securely using Secure File Transfer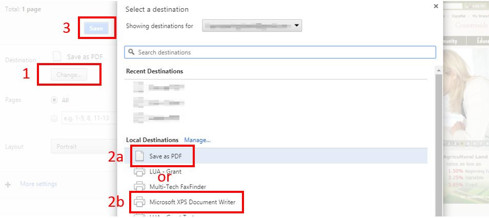 Internet Explorer and Microsoft Edge
Print web page using Internet Explorer/Edge.
Select "Microsoft Print to PDF" (if this is not an option, select "Microsoft XPS Document Writer" instead)
Click 'Print', save the resulting file, then upload it to us securely using Secure File Transfer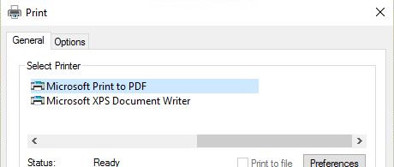 Photographing Documents
Documents can easily be photographed using either a point-and-shoot camera, or the camera on a mobile smart device. To ensure the best quality:
Always ensure there is adequate light. Using a flash is preferred otherwise a room with

multiple

60-watt/800-lumen light bulbs. Even on a cloudy day, there is several times more light outside than is found inside a home.
Ensure the light source is not directly behind the device taking the picture as to cast a shadow
The camera

lens

(not the device) should be above the exactly middle of the document top to bottom and left to right to prevent 'tilt' distortion
Take the photo as close to the document as possible. All four corners should be present in the photo with minimal space around the document. Avoid using zoom.
Upload the resulting JPEG or TIFF image(s) to us securely using Secure File Transfer
Proprietary Programs (Microsoft Office, Apple iWork, etc.)
Check to see if the program supports savings documents in the PDF format
If a document cannot be save directly to a PDF, print the document to "Microsoft Print to PDF" (if this is not an option, select "Microsoft XPS Document Writer" instead)